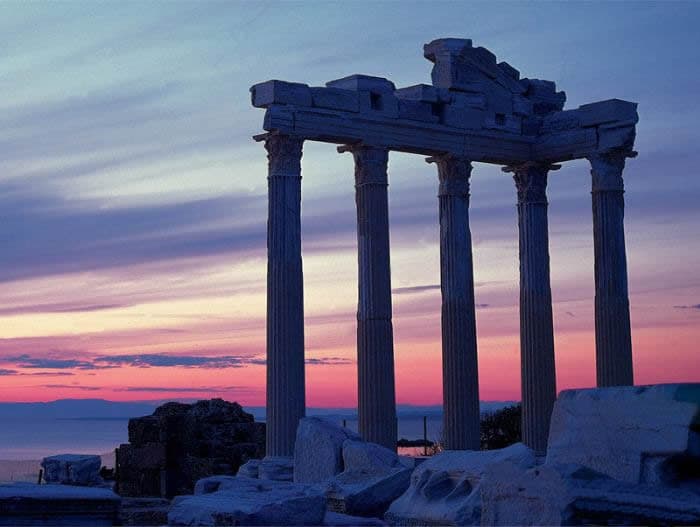 Aspendos Antalya
If you are looking for somewhere rich in nature and history, the province of Antalya is one of the best that you can find in Turkey. Antalya offers best seaside resorts and hotels on coast of Mediterranean. Moreover, it also hosts the most interesting archaeological sites which have the traces from the earliest man to the present.
One of the historical places that attracts most attention is the Ancient City of Aspendos which is located 25 miles east to the city center of Antalya.
According to the records, the history of Aspendos goes back as far as 1000 BC. During the 5th century BC, it got rich in terms of oil, wool, and salt so that, Antalya became a center of trade and industry and prospered on the coast of Mediterranean.
When you visit an ancient town, the ruins are the ones that you look forward to see most so, it's also same in Antalya. Most of the ancient ruins are well restored and reached until today. Aspendos is one of the best-preserved destination so that, you can experience a perfect historical and archaeological tour in here. Moreover, the theater has an extremely fascinating view. If you consider all the Roman Theaters in the world, Aspendos is one of the best preserved located outside of Italy.
This masterpiece was built in 155 AD by a local architect Zenon. After the construction finished, it was presented as a tribute to the emperor Marcus Aurelius and to the Roman gods.
Aspendos is a massive theater with a height of 96 m. and this makes the Aspendos . The theater is so gorgeus that you can feel engulfed while you are standing at the stage. There are also remains of ancient basilicas and Roman aqueducts in the area so, you will find more than a theater in your visit to Aspendos.
If you are lucky enough, or if you make necessary reservations before; Aspendos theatre hosts an International Opera and Ballet Festival every year which is a unique experience that merges history with art.